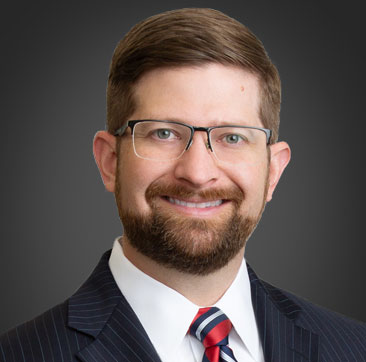 Patrick is a trial attorney who represents both plaintiffs and defendants in commercial litigation, intellectual property disputes, tort defense work, and class action and multi-district litigation.
The clients he represents hail from a variety of industries: oil and gas (including a major integrated energy company, a midstream company, a petrochemical company, and proppant suppliers), automotive, specialty minerals, retail, music, and religious organizations. In patent litigation, Patrick has faced off against some of the biggest technology companies in the world, including Google, Netflix, Samsung, and Apple.
In his first six months in private practice, Patrick second-chaired a multi-million dollar breach of contract dispute, winning a full jury verdict for a small businessman wronged by a large, publicly traded company. Patrick delivered opening argument, presented the plaintiff's second fact witness, and shredded the credibility of the defendant's only fact witness on cross.
Patrick joined Beck Redden after starting his practice with another national trial boutique in Houston. Patrick attended law school at the University of North Carolina, where he graduated first in his class and was Managing Editor of the North Carolina Law Review.
Expand All
Publications & Presentations

Plausibly Willful—Tightening Pleading Standards in FACTA Credit Card Receipt Litigation, 94 N.C. L. REV. 1314 (2016)
Managing Risk Associated with Third-Party Outsourcing, in NAVIGATING THE DIGITAL AGE: THE DEFINITIVE CYBERSECURITY GUIDE FOR DIRECTORS AND OFFICERS (2015) (with David Fagan, Nigel Howard, Kurt Wimmer, and Elizabeth Canter)

Community Involvement

University of North Carolina School of Law, Alumni Clerkship Committee