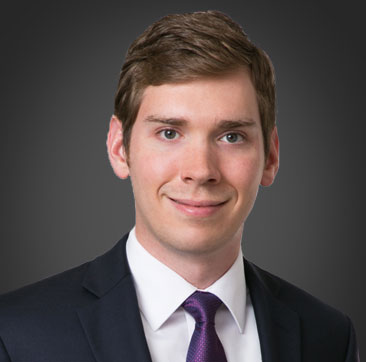 Joshua pursues excellence in everything he does, including vigorously advocating for his clients.
After clerking two years for the Supreme Court of Texas, he has first-hand knowledge of cutting-edge legal issues, the Texas appellate system, and the skills needed to persuade judges and courts.  He has argued in the United States Court of Appeals for the Fifth Circuit, the Supreme Court of Texas, and multiple Texas courts of appeals.
Joshua's appellate experience touches a broad range of subject matters, including oil and gas disputes, insurance and workers' compensation law, business disputes, the enforceability of arbitration agreements, and personal injury matters.
Joshua thrives on a challenge.  His strong work ethic, attention to detail, and ability to communicate complex ideas in a straightforward manner well equip him to make convincing arguments.  In law school, his hard work resulted in the highest GPA in his school's history.  And now as he practices law, he is committed to employing the same skills and dedication on behalf of his clients.
Expand All
Representative experience

Presented argument in Texas Supreme Court on behalf of major oil company. The appeal concerned the meaning of a widely-used waiver-of-subrogation endorsement in Texas workers' compensation insurance policies. Exxon Mobil Corp. v. Insurance Company of State of Pennsylvania, 568 S.W.3d 650 (Tex. 2019).
Presented Fifth Circuit argument on behalf of a Gulf Coast vacation-rental business in dispute over business losses stemming from the Deepwater Horizon disaster. Claimant ID 100081155 v. BP Exploration & Production, Inc., 920 F.3d 925 (5th Cir. 2019).
Assisted with developing strategy for briefing a Texas Supreme Court case regarding the scope of an oft-litigated statute. The Supreme Court rendered judgment that Chapter 95 of the Texas Civil Practice and Remedies Code barred a contractor's employee's negligent-hiring claim against an oil and gas well operator. Endeavor Energy Res., L.P. v. Cuevas, 593 S.W.3d 307 (Tex. 2019).
Represented oil and gas well operator on appeal in dispute with a supplier of failed drill pipe. Knight Oil Tools, Inc. v. Rippy Oil Co., No. 10-18-00284-CV, 2020 WL 7866855 (Tex. App.—Waco Dec. 30, 2020, no pet. h.)
Represented employer in dispute regarding enforceability of employer's arbitration agreement with its employee. Stage Stores, Inc. v. Eufracio, No. 13-18-00281-CV, 2019 WL 3484430 (Tex. App.—Corpus Christi Aug. 1, 2019).
Represented major oil company in appeal regarding the scope of an oil and gas pipeline easement. Texas Land & Cattle II, Ltd. v. ExxonMobil Pipeline Co., 579 S.W.3d 540 (Tex. App.—Houston [14th Dist.] 2019, no pet.)
Represented employer in dispute regarding enforceability of employer's arbitration agreement with its employee. Mission Petroleum Carriers, Inc. v. Dreese, No. 13-17-00102-CV, 2018 WL 1192773 (Tex. App.—Corpus Christi Mar. 8, 2018, no pet.)

Publications & Presentations

Kyle Lawrence & Joshua Smith, Is Your Defendant Protected by the Workers' Compensation Act?, 80 The Advocate (Texas) 27 (Fall 2017)
Drafted and organized parts of workbook, Unlocking Estates in Land and Future Interests (West 2014) – Graduate Assistant for Property Professor.

Professional Activities & Memberships

Houston Bar Association, Appellate Section